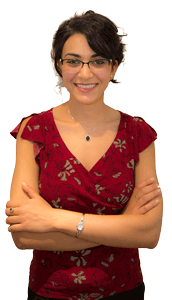 Marize graduated from the University of Toronto with a Bachelor of Kinesiology and Physical Education and attained a Master of Science in Physical Therapy from McGill University. Marize is a member of both the Professional Order of Physiotherapy of Quebec (OPPQ) and the Canadian Physiotherapy Association (CPA). She is also an Oncology division member of the CPA and recently attained the designation of Clinical Specialist Oncology by the Physiotherapy Specialty Certification Board of Canada.
Marize's continued engagement in oncology rehabilitation-related research demonstrates her professional leadership and commitment to advancing the science and practice of physical therapy. She has been actively involved in the advancement and dissemination of knowledge through publications in peer-reviewed journals such as The Journal of Community and Supportive Oncology, Journal of Cancer Survivorship, Clinical Breast Cancer, International Journal of Radiation Oncology, Clinical Oncology, and Rehabilitation Process and Outcome. As a co-principal investigator and clinical supervisor at McGill University, she participated in developing an evidence-based educational resource tool to help minimize fractures in patients with bone metastasis using a patient-education resources education booklet. She is also a co-coordinator of the Oncology Rehabilitation course offered through the School of Physical and Occupation Therapy at McGill University and has taught continuing education courses to licensed physical therapists (through the OPPQ and CPA). She has presented at national (i.e., Montreal, Ottawa, Kingston, Toronto) and international (i.e., India) conferences in different capacities, but primarily as an Invited Guest Speaker.
Marize is also a licensed Casley-Smith Lymphedema Therapist and a certified Lymphedema therapist with the Lymphology Association of North America (LANA). She is working at the McGill University Hospital Center Lymphedema Clinic with the well renowned Dr. Towers and her multidisciplinary team. She is Bone Fit Trained Specialist through Osteoporosis Canada and has specialized training in posture and movement system imbalance. In her spare time, Marize is a Canadian National Paralympic Medical Swimming Classifier who volunteers with an incredible and inspiring group of Canadian para-swimming athletes across the country, and currently working towards becoming an International Classifier with the ultimate goal of attending the Paralympic Games.
Learn more about Marize on ResearchGate and LinkedIn.